Indonesia offer thousands of pristine natural scenery, the glory of past kingdoms' colonial and world's heritage sites and even the world's best culinary experience. Among those travel prospects, Palembang city is only within 45 minutes of direct flight away from batam city island. Located in southern part of Sumatera island, Palembang city  is one of the best and economical holiday destination to visit. While big tourist spots like Medan/Toba and Padang/Bukit Tinggi are popular with tour groups and honeymooners because of their formal and iconic sights, Palembang poise as the origin of Malays culture and important trade city between India and China thousands of years ago. This city has been known as the centre for Budhism study back in the glorious age of Srivijaya empire (the largest Buddhist kingdom in Asia as well).
During the Dutch colonial, Palembang is recognized as the 'Venice of the East', but as of 19th century, most of the 130 canals is replaced by bridge road, and almost all of its citizen using land transportation nowadays. The name of the city is perhaps derived from the word 'Limbang', which means 'panning for alluvial gold'. People still dive in Musi for gold. There is another myth, which says that when emissaries were sent from the great kingdom of Majapahit to develop a colony on the East Coast of Sumatra, the ship sank near the mouth of Musi River. All that remained, which was a cargo of coconut, had to be used to reach the goal, so the coconut was cleft into two halves. These two halves were used as vessels, and the four people saved, who were brothers, took their places in them by two. So they sailed up the river, lurching (limbang-limbang) through the rippling of the water, and finally they reached a place, which they dubbed Palimbang, and with the passage of time people conveniently called the city as "Palembang".
The Srivijaya empire (also written Sri Vijaya, Indonesian/Malay: Sriwijaya, Thai: ศรีวิชัย rtgs: Siwichai, Sanskrit: श्रीविजय, Śrīvijaya, known by the Chinese as Shih-li-fo-shih and San-fo-ch'i). Long before Singapore, Palembang's Srivijaya empire is a dominant naval trading city-state based on the island of Sumatra, Indonesia, which influenced much of Southeast Asia. Srivijaya was an important centre for the expansion of Buddhism from the 8th to the 12th century. In Sanskrit, śrī means "fortunate", "prosperous", or "happy" and vijaya means "victorious" or "excellence".
On the 7th century. A Tang Chinese monk, Yijing, wrote that he visited Srivijaya in 671 CE for 6 months as Srivijaya rose to become a hegemon in Southeast Asia. It was involved in close interactions — often rivalries — with the neighbouring Medang Kingdom, Khmer Empire and Champa. Srivijaya's main foreign interest was nurturing lucrative trade agreements with China which lasted from the Tang dynasty to the Song dynasty. Srivijaya had religious, cultural and trade links with the Buddhist Pala Empire of Bengal, as well as with the Islamic Caliphate in the Middle East. The kingdom ceased to exist in the 13th century due as they were subdued to the expansion of the multi religion based kingdom in Java island, namely the Singhasari, and Majapahit empires.
Beside of their rich historical story and their pristine museums, the 18th edition of a regional multi-sport event in Asia which is planned to be hosted by Indonesia from August 18 – September 2, 2018. 38 sports and disciplines will be featured for the first time there. Two cities will host the Games, in Jakarta, the national capital city, and Palembang, the capital city of South Sumatra province.
Palembang is the place to go if you really want to experience the culinary richness of all ethnicity in Sumatera. Palembang is also the birth place for Luwak Coffee. In Palembang you can also taste Murtabak or Prata filled with minced meat and egg and eaten with curry as most of the owners are Indian descent. The price for each meals served there is trully affordable even for average indonesian salaryman. You can also savor the fishcake with onion sauce named "pempek", Fish soup Model and tekwan, Beef spicy sour stew called "pindang", Padangnese world #1 steak named "Rendang", world's best Chinese noodles, Bataknese pork-roasted boar and many more.
However, as with any major cities in Indonesia, the crime rates are high and tourist is no exception target. You need a trusted local guides anywhere you go there to be safe and keep simply casual outfits. Batam-City employs only the most trusted guides and driver to be your only trusted companion in helping you to create a pleasant memories. Here are our suggested place of interest when you consider a getaways in Palembang city:
1. Musi River & Ampera Bridge

Palembang is a city united by the Ampera bridge. The iconic Ampera Bridge itself was built in 1962 and completed within a period of 3 years under the reign of Indonesia's first president Soekarno and Japanese engineers with local support. Previously, the Musi river itself divides the city into two parts and was once the main means of transportation in Palembang.
The houses along the banks are built of piles and are facing the water. The banks of Musi are covered with water at regular intervals. On the banks of the Musi River there are several attractions, including a floating restaurant, Arab villages, and Kuto Besak. The Musi River is the right place for a culinary tour in the city of Palembang. The recent development by the government has cleverly design an integrated tourism market which is the center of souvenir and hawker food stall so that you can easily buy souvenirs and fill the stomach.
3. Kemaro Island
Located in the middle of the Musi River, about 6 KM from Ampera Bridge, Kemaro Island is actually formed as a delta land and one of the famous tourist attractions in Palembang. The island host one of the most religious Budhist monastery much visited by Buddhists to pray and make pilgrimages. "Kemaro" itself means "draught". Here you can found the tomb of a princess Palembang. The princess has its own story, that she was married to the son of the king of China with the dowry in the form of 9 golden urn, but in the end the couple threw himself into the river and drowned.
Kemaro Island there are some interesting things, such as 9-storey pagoda built in 2006, and the tree of love. Local people believe that if lovers carved his name in the tree of love, the love oath will brought an everlasting wedding. There is a pagoda in the island and every year Chinese New Year and Cap Go Meh is celebrated here
4. Punti Kayu Forest Park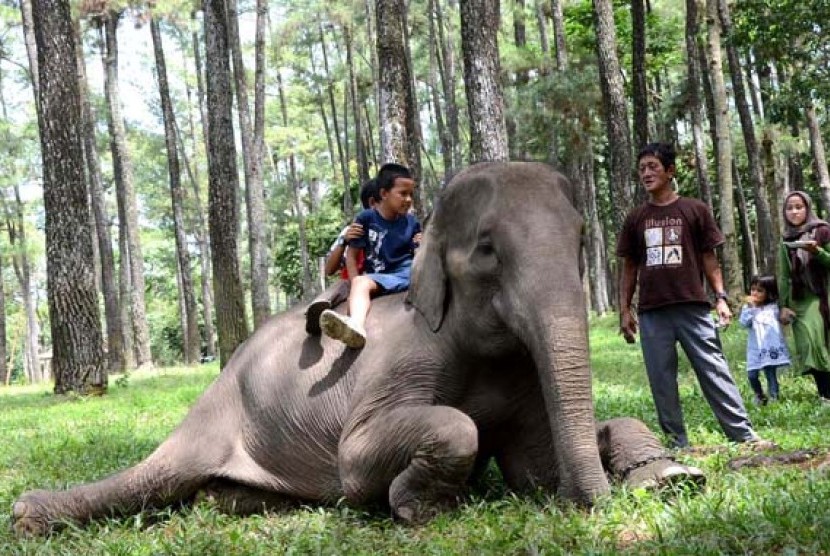 Punti Kayu Forest Park is the only tourist place in Palembang serves as a zoo-like forests. Located approximately 7 kilometers from downtown Palembang, Forest Park Punti Wood is one of the favorite family attractions in Palembang which covers 50 acres of protected rain forest, Forest Park Punti Kayu has a complete tourist facilities such as zoo and friendly hiking path. In addition to swimming, boat cycling, picnic, and play in the park, you can also see the elephant and horseback riding here. The admission price Punti Kayu Forest Park is IDR 5,000 (SGD$0.65) and is open from 9 am to 4 pm.
5. Kuto Besak Fortress

Kuto Besak stands firmly as it witnessed colonial struggles and dynasties in the region. Kuto Besak is one of the tourist attractions in Palembang with the river front plaza overlooking Musi river and Ampera bridge. The fortress is a popular spot for local family, youngsters and visitors to enjoy late afternoon breeze in Palembang. It is a nice place for hang around and people seeing. The warung terapung (floating warung) are boat eating establishment offering nice and cheap snacks and Palembang famous dishes such as pempek. On east side of Ampera bridge, numbers of traditional eating establishments offering various local delicacies.
6. The Great Mosque of Sultan Mahmud Badaruddin
Great Mosque of Sultan Mahmud Badaruddin is the biggest mosque in the city of Palembang. The design itself is incoorporating the Indonesian architecture of Europe and Oriental influences. This place is a great base for cultural tourism and religious tourism in Palembang. Nearby the Great Mosque of Sultan Mahmud Badaruddin, you can also find 2 market which sells a variety of souvenirs, fabrics, wood crafts, and hawker foods.
7. Kambang iwak city garden
The Kambang iwak garden or Fish flower garden is a relic of history since the Dutch colonial era. Formerly, fish flower garden is used for recreation Dutch family living around the park flower fish. Nowadays, fish flower garden is one of the highly preferred jogging park, with a fish ponds of over 800 meters as the city's reservoir. In addition to having a wide range of games facilities, this place also has a lot of restaurants that are suitable for many childrens and youth.
8. Jakabaring Sport City (Athlete Camps)

The Jakabaring sport city is Indonesia's only camps for national athete with integrated land and water sport within its vicinity and monorail interconnection to its airport. Before passing through the Ampera bridge towards the Jakabaring sports city, you can also see the Monumen Perjuangan Rakyat, abbreviated Monpera, literally 'People's Struggle Monument'. Located besides Ampera, it is a remembrance of the Independence War that take place from 1945-1949. The monument has a museum inside it.
The sport complex offer various sports hall and facilities to accomodate national events and the next Asian games in 2018. Public can also access the sport center with admission fee of IDR 25,000 (SGD$3) per car. Here you can have a rent kayak, archery lesson and many more. You might as well drive a car to go there as the facility is distant away from the entry gate.
9. Niagara Lematang Beautiful
The power spot is located in the city of Pagar Alam, Niagara Lematang Beautiful is one of the tourist attractions in Palembang most famous, in the category of natural attractions. Lematang Beautiful Waterfall has a height of about 40 meters, not too high, but it has a beautiful environment so it is soothing the eyes of visitors. The trip to Niagara Lematang Beautiful will be presenting you a beautiful view, so you will not get bored on the trip. When you come to visit during the rainy season, be careful because the existing stairs in Niagara Lematang Beautiful can be very slippery when exposed to rain. The admission price Lematang Beautiful Waterfall is IDR 5,000 (SGD$0.65) per person.
10. Museum Negeri Balaputra Dewa

The museum was built in 1877 as a homage to the traditional Palembang ethnic palace on a 23.565 meter sq. Located in Jl. Srijaya No 228 Km 5 Palembang, you can learn and discover the relics of Srivijayan empire and its 3580 artifacts and a glimpse of botanical and complete collection of animal Taxidermy natively in the region. The entry ticket is surprisingly cheap as low as IDR 5,000 (SGD $0.65). You can take picture of every object displayed there. The museum is open from tuesday to sunday, 8 AM to 2 PM (GMT +7).
Palembang and its hinterland province of South Sumatera will give you a more authentic feel of the wild and wide expanse of this relatively underpopulated part of Indonesia. Palembang and Srivijaya empire is also the legendary birthplace of Malay Culture and its language that became the lingua franca of the entire ASEAN archipelago. From hunting a wild boar to enjoying the street food in Ampera bridge or kayaking in Sentosa's athlete camp, Palembang is worth a trip.
Kindly inquire us for details here

---
Source:
https://en.wikipedia.org/wiki/Palembang
http://www.palembang.go.id
Comments